We've all gone through it. We've seen someone beautifully perform their art and think "I want to do that".
But getting started in something new isn't always the easiest thing. Especially with dancing. There's often a bit of anxiety about how to start. Whats the first step? Will I look silly doing this? How do I find others to learn with so I'm not going at it alone? What style should I start with?
These are common questions and concerns everyone goes through.
So we've decided to round up some experts and asked them to tell us "how to get involved & fall in love with the art of dancing."
Here are their inspiring answers (ordered based on time responded):
---
Mandy Epprecht, Mandy's Dance
---
Since the beginning of mankind, almost every society has some form of dance in their culture. It's such a powerful way to express oneself, to let go, to be vulnerable, and challenged at the same time.
Dance, in any form is an exciting physical experience, and when we start to learn the formal versions of something as beautiful and expressive as ballroom or latin American dancing, we utilize both our brain power and muscle power.
It's been proven in recent studies that dance is the best form of exercise to keep both our bodies and our minds young and strong, because of the obvious connection between the physical and mental requirements, but also because of the wonderful social aspect. And hour of ballroom dance can burn over 600 calories, it tones muscles, it sharpens the mind, and it is an exceptional way to be part of a wonderful social environment.
And, with the recent success of TV shows like "Dancing With The Stars", and " So You Think You Can Dance", it is enjoying a surging popularity , especially among the younger demographic. My full classes at the University of Toronto. and the University of Waterloo are proof of that! So, sign up, get out there , and dance!
---
Susanna Stein, Big Apple Ranch
---
Face your fears! You may think you can't dance, but give it a try and you will find the style that suits you. Two-step, swing, waltz...if you can walk, you can dance. The structure of partner dancing can give you just the support you need. Try it, you'll like it!
---
Arlene Caffrey, Irish Dance Pole Academy
---
The easiest ways to get involved with your local dance community are to attend some local shows and to check out some local dance classes. These are great ways to get a feel for your local scene and to get to know others who are involved and can support you on your dance journey.

To really fall in love with it, like any worthwhile relationship, requires time, effort and a bit of give 'n' take! Continue to take an active interest by supporting local artists, attending shows and taking classes. Be patient with yourself in your own dance and creative endeavours. When I say 'be patient', I mean to accept that you'll have your good days and bad days on your dance journey. It's easier said than done, but try to find the joy in the process of learning and don't rush the basics! During your 'down' days (or weeks, or months...) you'll find that taking an active interest in your local scene, as mentioned above, will help you to feel less alone and frustrated and will provide you with support and new inspiration to keep your love fresh and to overcome the slump!


---
Laura Rose, Dance 4 Fun
---
The great thing about dance is that it is a great way to socialize without having to be very social. If you are somewhat shy and nervous about having to hold up your end of the conversation, dancing is for you. Simply ask someone to dance and the dance does the rest.

Best way to get involved and have fun is to attend the dance's beginner lesson. Most dance venues start off with a complimentary beginners' lesson. Dancers rotate during that class, giving everyone a chance to dance with different people. By the end of the lesson, you have automatically been introduced to several people you can now ask for a dance later.

Regardless if you are male or female, lead or follower - ask people to dance. Everyone is nervous, but (as with everything) it gets easier with practice. Just make it a goal to ask 3 people that you have never danced with before. Then next time, just ask 3 different people (as well as asking the people you danced with last week). Do this every week and before you know it, you have become a regular and are no longer nervous about this crowd.

If you are nervous about people watching you dance, dance in the center of the dance floor. The dancers around you are too focused on their dance and their fun. The people on the sidelines can't see folks in the middle. They can only see the people closest to themselves, on the perimeter.
---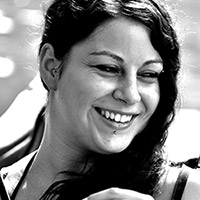 Gemma Young, Love Pole Kisses
---
The hardest part of anything is getting started, sometimes when it comes to dance it's easy to be overwhelmed by the talent of others.
My advice for getting started and falling in love with any form of dance is to take that first step through the door, don't compare yourself to anyone else and enjoy yourself!
Pole dancing was my calling but if I could do one thing over it would be to start sooner and not worry about having enough strength or flexibility.
These things come naturally as you progress, so take your time and enjoy your own journey. Whether you
start pole dancing
for fitness or just for fun it will fast become the love of your life!
---
Waira Mendoza-Angle, The Yale Saloon
---
Line dancing brings people together. Young and old, beginner to advanced, line dancing connects people through music, and through a set of simple moves that are executed in unison. It takes no previous skill or knowledge to join in a line-dance, just be bold, get on the dance-floor, and watch what the line-dance leader is doing. Be patient with yourself as you learn the sequence of steps, and consider participating in the "laid-back," classes hosted every Friday and Saturday night from 8-10pm at The Yale Saloon on Granville and Drake.